It's getting dark pretty early, these days – and the air is getting colder. For many, it's time to put their bikes up for the season. For others, further south, it's finally cool enough to start putting serious miles on them again. For nearly all motorcyclists, however, the winter is special for another reason: the new bikes are out! With new bikes come new lists. As such, it's time for enrg.io to once again put together our annual list of the best fuel efficient motorcycles you can buy.
This list, like the others, is divided into categories, and the "winner" is selected for wildly arbitrary reasons based impressions gathered in 20+ years of riding experience as much as it is for its "green" cred. So, check out our choices below, then tell us which ones we got right– and which ones we got wrong!– in the comments section at the bottom of the page. Enjoy!
2020 Honda Monkey | 157 MPG
Best Mini Bike
If it seems like the Honda Grom has been our pick for this category every year that we've done one of these lists – that's because it has! The little Grom 125 has that near-perfect blend of performance, agility, and attitude that makes riding it a stupid fun experience every time. It would take a truly special motorcycle indeed, to dethrone Honda's miniMOTO champion.
The new Honda Monkey is a truly special motorcycle. In addition to capturing the look and "vibe" of the classic Monkey bike from the '70s, the 2020 Monkey delivers the performance that young, modern 125 buyers expect and that older, more "nostalgic" riders remember. It's like a time machine and mood-enhancing drug in one, and the fact that it does all that while giving back 125 MPG is just icing on the cake.
2020 Motoped Pro 50 | 130 MPG
Best Moped
When Ducati launched an all-new electric moped with solid off-road cred at last year's EICMA motorcycle show, I said that it might – finally! – unseat the Motoped as our top pick. I have a weird sense of humor. Maybe, that's because there is absolutely no way that's going to happen. The Motoped is perfect.
If you're wondering why I believe that, consider the following:
The Motoped looks the part — especially the original, Motoped Pro version. This bike has every inch of the look and feel of Honda's bigger CRF trail bikes, but it's street legal!

The completed Motoped weighs in at just 118 lbs., making it nearly 100 lbs. lighter than the lightest road-legal offerings from Japan's Big Four bike makers. Simply put, you can't buy a lighter, more nimble motorcycle in the US right now.

All of the machined aluminum and steel parts that make up the Motoped kit, as well as the Honda-derived 50cc engine, are top-notch. When you see one of these bikes in person, it doesn't look like a kit. It looks like a custom, coachbuilt ride.
I really can't say enough good stuff about this go-anywhere little bike. If you get the chance, absolutely find a way to get on one– even if that's just swinging a leg over one at PRI or Barrett-Jackson. You'll be impressed, even at the relatively steep $3099 asking price for the 50cc version.
2020 Zero S ZF7.2 | 223 Miles (City)
Best Standard | Commuter (Tie)
Following the demise of Alta Motors and the future of the Harley Davidson's electric LiveWire line being thrown into question (regardless of what HD says, publicly), Zero is rolling into the new year way, way out in front of the electric motorcycle race. They're not sitting on their laurels, though.
With a 223-mile all-electric range, the latest Zero S will be able to take most commuters from home to work quite a few times in between charges, too. That'll do quite a bit, I think, to alleviate any lingering range anxiety that might still be out there – and probably send the Nissan LEAF/Tesla Model 3 crowd into fits … but if it's not enough, keep reading.
2020 Honda CB300R | 71 MPG
Best Standard | Commuter (Tie)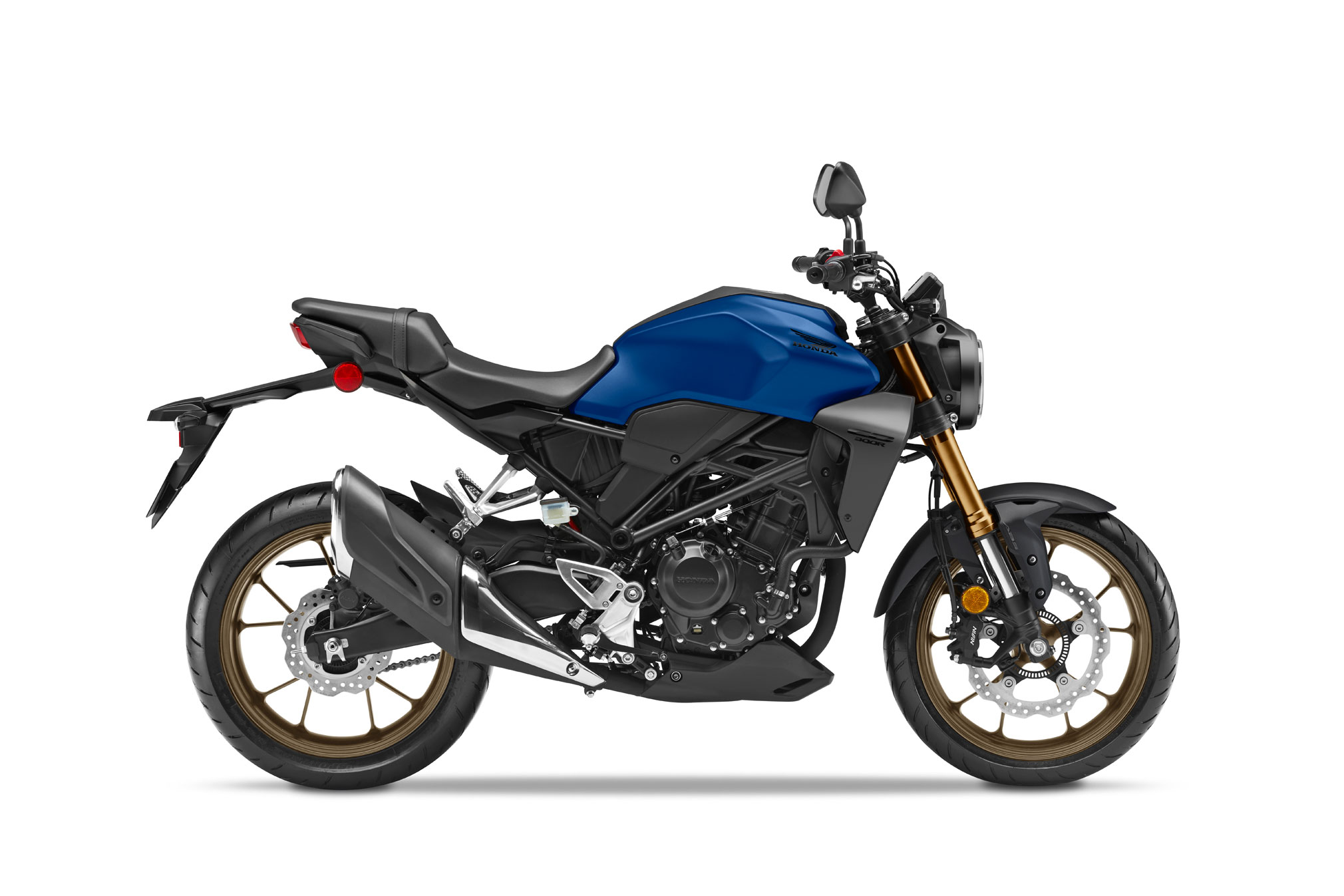 That's right, kids — it's another Honda. This time it's the New Retro CB300R that I've named my top pick for the standard/commuter class, but I'm putting a big, big, petroleum fueled and range anxious caveat on that pick. It's this: the Zero is the better bike.
That said, if you just can't bring yourself to buy an electric bike – whether that's down to a lack of access to charging, spotty dealer network, or whatever other reason – you're next best bet is this CB300R. New for this year, the bike has all the slick looks of its bigger siblings. This bike is a torquey, traffic-friendly single cylinder engine, with 70+ MPG fuel economy in a package that retails for less than $5000. Factor in Honda's excellent fit and finish, nationwide dealer network, access to parts, and available roadside assistance and the reason for this pick becomes pretty obvious.
2020 Kawasaki W800 Cafe | 60 MPG
Best Cruiser | Retro
Despite its maker's somewhat dubious claim that the 2019 Kawasaki W800 Cafe is "all-new" for this year, and despite its underwhelming 53 MPG average fuel economy in the real-world, I've still picked it as the best fuel efficient cruiser/retro bike you can buy in 2020. And –  being honest – I feel good about that.
Bikes like this are chosen primarily for the way they look and feel. More precisely, they're chosen for the way they make their riders look and feel – and you'd have to be a really soulless, thankless, and witless bastard of a human being to not feel a bit like a Steve McQueen or Paul Newman character come to life on a bike that looks as good as this Kawasaki.
I know, I know. Its styling is derivative. It looks like a knock-off Triumph. There's nothing "new" or "original" about the Kawasaki W800. That may be true – but the W800 promises to be about as reliable as a stone axe, too. For my money, that makes it a winner.
2020 Honda Gold Wing DCT | 40 MPG
Best Touring | Big Cruiser
The latest version of the Honda Gold Wing launched earlier this year, but it was more than just an "update". This latest 'Wing is nothing less than a total reboot of the Gold Wing brand, and there is no question that the bike has raised the level of the touring motorcycle class.
The new Gold Wing comes in two versions. The Gold Wing and Gold Wing Tour, which features a trunk, passenger arm rests, taller windshield, and a reverse gear as standard. My pick, however, is the "base" Gold Wing, due to its lighter weight, cleaner lines, and the more "sporty" feel you get from the lower windshield. I'd also pick the DCT version over the manual, if only to avoid the hassle of shifting in urban riding.
That's right: urban riding. The new 'Wing is 85 lbs. lighter than the bike it replaces, despite ditching the conventional front fork for a new, duolever style adjustable front end. That new front end means Honda was able to push the engine and transmission forward, buying the rider a touch more legroom without sacrificing the engine. Combined, the lower weight, improved mass centralization, and optionally cushy ride make the 2020 Honda Gold Wing almost as much fun to commute on as it is to hit the highways – and that kids, is a real accomplishment.
2020 Vespa Elettrica | 62 Miles
Best Scooter
The electric Vespa has been a long time coming – but it's finally here. With an all-steel body, torquey electric motor, and over sixty miles of all-electric range, the 2020 Vespa Elettrica promises to be the best scooter you can buy in 2020.
Vespa promises that its new Elettrica will offer the kind of performance typically found in the 125cc range, with a longer range "hybrid" version coming sometime in the future. The MSRP is set at just under $7,500 for this beauty – definitely worth the price!
2020 Suzuki Burgman 650 Executive | 60 MPG
Bast Large | Maxi Scooter
Over the years, I've given the "best big scooter" nod to the sporty Yamaha TMax and pricey BMW C650GT. They're great bikes, but I got it wrong. The best big scooter you can buy is the Suzuki Burgman 650 – and, I admit, it probably always has been. Having finally spent some quality time on a Burgman this past year, I have seen the light. The Burgman is awesome.
What makes the Burgman so great? Luxury.
Everything about this bike is luxurious – the weather protection? Second to none. Storage? You and yours can fit everything you'll need for a weekend getaway, and have room left over to buy a few t-shirts while you're there. Power? The Burgman 650 is powered by a big, liquid-cooled, parallel twin that can push it to triple digit speeds with ease. Comfort? The term "road sofa" has never been put to better use.
This is the one, kids. If you have any interest at all in big, feet-forward motorcycles, you'll want to get to your local Suzuki dealer and pick up a 2020 Burgman 650 Executive while you still can.
2020 Zero DSR | 157 Miles (City)
Best Dual Sport Bike
With more than 116 lb-ft of TQ, the updated-for-2020 Zero DSR is the electric bike that will make you a believer. A believer in the concept, a believer in Zero, and a believer of various dieties the first time you crack the throttle from a standstill!
The Zero DSR is more than just a tire-shredding torque monster, though. It's also an eco-conscious commuter, a day tripper, and more. Owners can use a smartphone app to configure their riding experience by adjusting variables like top speed, brake regen, and max torque. It's gimmicky, sure – but it's also a thoroughly modern experience that few other bikes can deliver. In addition, the 2019 DSR has been newly outfitted with a collection of Zero's bestselling accessories, including a dual-sport windscreen, tank grips, hand guards, and a 12V accessory socket.
"Zero was founded with an emphasis on off-road and how electric power train technology can transform that riding experience. Whether bombing down a fire road or quietly weaving through a forest, Zero's dual sport line strips away noise and complication to redefine what a motorcycle can be," said Abe Askenazi, CTO of Zero Motorcycles. "In a word, effortless. Just you, two wheels, and a fist-full of always-there torque for wherever the road takes you."
2020 Indian Scout FTR750 | Doesn't Matter
Best Race Bike
Let's get this right out of the way: a new Indian Scout FTR750 flat-track race bike will run you $50,000. Before you get it ready to race. Assuming Indian will even sell you one.  You'll also get a bike with a 30-hour maintenance interval. That may not sound like much, but compared to the Harley-Davidson XR750 racers that need almost $2000 in parts to rebuild their engines after every race? Compared to that, the Indian FTR750 is a paragon of maintenance-free racing. Get yours, if you can.
2020 Yamaha Niken | 45 mpg
Best Three Wheeler | Trike
The Yamaha Niken is not your typical trike or three-wheeler. It's not a motorcycle with an extra wheel thrown in to appease people who are afraid of falling over, in other words. Instead, it's a motorcycle with an extra wheel thrown in to appears people who want more tire grip.
That's how Yamaha is pitching the thing, anyway – and it seems like a neat twist on the concept if you ask me! Here is a bike with three wheels that will, in fact, tip over at a stoplight. What it won't do is lose the front end and slide in a fast sweeper.
Will it sell? Probably not. Not because it isn't a trick piece, but because- by offering that third whee l- the bike is promising prospective buyers that the "bike" will stand on its own, and it won't. Even if it did, though, I don't think there are enough sportbike riders out there who are pushing the limits of traction to make this a viable sale – not if all the guys I ride behind with 4″ of chicken strips on their tires are any indication.
What do you guys think? Is the Niken – maybe in EV form – the shape of things to come, or is it just weird? Do you agree with my picks in the categories, above, or do you have your own ideas? Let me know in the comments section at the bottom of the page.
Original content from enrg.io. Photos and EPA fuel economy figures courtesy of the bikes' manufacturers representatives (via text or email), or their respective websites, unless otherwise noted and linked to in the text. Special thanks to Fuelly and Total Motorcycle.